---
If you(or a friend) do not have a wii that you are willing to homebrew to do this, you can buy pre-made cards on ebay, but we don't have any recommended sellers, and if you do buy a pre-built card it's recommended to update the boot.gci on the card to the latest from swiss.
WE ARE NOT RESPONSIBLE FOR YOUR FINANCIAL DECISIONS OR ANY HARM DONE TO YOUR CONSOLE
About Save Exploits
To use a Save Game Exploit, you will need:

A Wii with homebrew for creating a memory card
A Memory Card (at least 16MB!)
Your Game of choice
You will need some knowledge about Wii Homebrew, as it would be too long to describe anything. You can learn more here.
Preparing for GCMM and Swiss
Download GCMM from the GitHub Page and extract it
Place the gcmm_*.*.*/wii/gcmm-dark/ folder into /APPS on your SD-card
Create a folder called MCBackup on your root of your SD card
Download SWISS from the GitHub Page and extract it
Now go into the /GCI Folder and place the boot.gci into the folder MCBackup
Continue by choosing your Game
Create a Memory Card
Insert your SD-Card and Memory Card to Slot A
Start the Homebrew Channel and load GCMM
Press + to restore the .gci files
Press A for Slot A, select boot.gci and press A to restore to Memory card

do the same with your exploit .gci file
NOTE: If you use Animal Crossing, go to the directories nesgame and town by pressing A

Press A to continue and HOME to get back to Homebrew Channel
remove your Memory Card from the Wii and insert it into your Gamecube on Slot A
Start the game and follow the Instructions from your Exploit Game!
now you should be in Swiss
Choose a Game to Exploit
Before you choose a game, please check your serial number on your disk for later steps.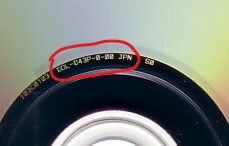 These are the games having an exploit to use for this guide: